2023 Athletic Trainer of the Year: Yuki Matsuzawa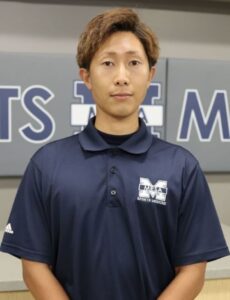 We would like to congratulate Yuki Matsuzawa as the 2022-23 CCCATA Athletic Trainer of the year.
Yuki Matsuzawa is a certified athletic trainer and holds concurrent certification in Japan and the United States. He is a former Mesa College student and graduated with his Bachelor's degree in Kinesiology – Emphasis in Athletic Training from San Diego State University. He also holds a Master's degree in Kinesiology – Emphasis in Sports Performance from Point Loma Nazarene University.
On September 18, 2022, San Diego Mesa College Athletic Trainer Yuki Matsuzawa along with two students and a coach, helped save the life of a 66-year-old athlete, who collapsed on the field after his event during the annual Senior Games Track Meet held on campus at Merrill Douglas Stadium. Upon arrival, Yuki checked for responsiveness and breathing. The man was initially breathing but disoriented and barely responsive. While trying to get more information and communicate with the man, Yuki noticed that he had stopped breathing and no longer had a pulse.
Yuki immediately applied the automated external defibrillator (AED) and began chest compressions for CPR. Yuki continued CPR for one minute until the AED advised for a shock, which Yuki applied after ensuring everyone was clear of the patient. Yuki continued CPR for another minute until the man began breathing again and regained consciousness.
This situation, and Yuki's actions speak to the importance of having Certified Athletic Trainers present at all athletic events. Athletic Trainers are highly qualified healthcare providers trained in emergency preparedness and response, ready and willing to provide care and serve the needs of our students, athletes, staff and community.
Matsuzawa says that he loves helping athletes and athletic trainer jobs because athletic trainers can provide safe environments in sports and help athletes' health. I'm honored to receive the award from CCCATA. Thank you for choosing me.
Yuki will be honored at the CCCAA "Honoring our Own" luncheon on Thursday, March 30th at the Sheraton Grand Sacramento, 1230 J St at 12PM.